Ever had one of those days when you just don't care? Well then you are like the honey badger!
New in the store, Having a honey badger kind of day is available on our full line of products and is customizable.   Add a name or personal message to make it a unique, one-of-a-kind gift for friends or family or a treat for yourself.
For a limited time, save $8 on all binders.  Use code BINDERSAVING at checkout.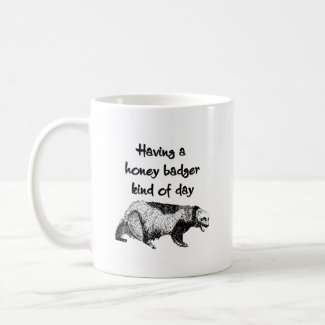 Having a honey badger kind of day
by
nowthatspunny
Make
personalized beer mugs
online at zazzle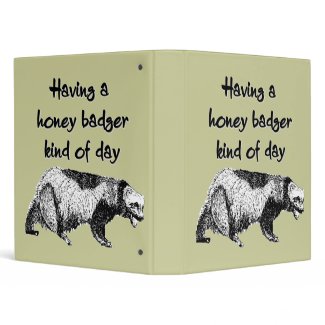 Having a honey badger kind of day
by
nowthatspunny
Join one of the biggest
artist affiliate programs
If you are unaware of the honey badger phenomena, I present the honey badger narrated by Randall
$8 of the binder net sale price will be deducted when one or more qualifying binders are purchased and the coupon code BINDERSAVING is applied at checkout. The net sale price is the price of the product (excluding shipping and taxes). Offer is valid through September 1, 2011 11:59pm PT. This offer does not apply to past purchases and may not be combined with any other Zazzle promotional or volume discount offers. If a volume discount applies to your order, you will receive either the discount set forth in this offer or the standard volume discount, whichever is greater. Offer valid on Zazzle.com only.
Tags: bumper stickers, customizable, customized, funny, gifts, having a honey badger kind of day, honey badger, humor, personalized, punny, stickers, t-shirts